Description
Second Chance Bride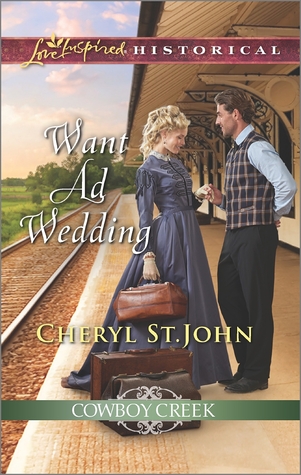 When Daniel Gardner convinced the residents of his Kansas boomtown to advertise for mail-order brides, he never expected the woman he once loved to respond. But Leah Swann steps off the bride train…pregnant and widowed and in need of a husband. Drawn to protect his fragile childhood friend, Daniel proposes a marriage of convenience.
Seeing her onetime best friend waiting to meet the bride train is a wonderful shock for Leah. After her first rocky marriage, a practical partnership with Daniel sounds perfect—as long as her heart doesn't get involved. But when she starts to fall for her husband, will her plans of a fresh start be ruined…or is a real marriage to Daniel exactly what she needs?
Cowboy Creek: Bringing mail-order brides, and new beginnings, to a Kansas boomtown.
Print Length:

288 pages

Publisher:

Love Inspired Historicals (April 1, 2016)

Publication Date:

April 1, 2016
My review: Want Ad Wedding by Cheryl St.John (Cowboy Creek)
Want Ad Wedding is set in Cowboy Creek, Kansas April 1868
Three friends after the civil war decide to start a town in Kansas. The Texas trail herds are coming up to their town for the railroad.
Daniel Gardner convinced the town to send away for mail order brides. Lots of single men come out to meet the first four woman.
Leah Swann is a widow and with child. She has lost her whole family. She hopes to find a good husband. She is surprised to find two childhood friends Daniel and Will behind the town. In fact she was engaged to Will at start of war but they broke up.
Both Daniel and Will are glad to see Leah again. Leah when she sees them does not feel so alone in the world anymore.
There is plenty of drama, mystery and it is fun to see them build their town. Someone is trying to Sabotage the town.
I want to comeback and read more books in the Cowboy Creek series.
I was given this ebook to read for free from NetGalley and Harlequin. In return I agreed to give a honest review of Want Ad Wedding.