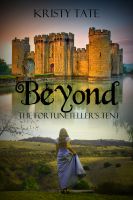 When Petra Baron goes into the fortuneteller's tent at a Renaissance fair, she expects to leave with a date to prom. Instead, she walks out into Elizabethan England, where she meets gypsies, a demon dog and a kindred spirit in Emory Ravenswood.
Emory must thwart plans of religious zealots. His mission is dangerous, his enemies are fanatical, and Petra Baron is a complication that Heaven only knows he does not need. Or does he? Although Emory is on Heaven's errand, he learned long ago that Heaven does not always play fair.
As Petra slowly falls for Emory, she wonders if he really is who he seems, or if he is just as lost as she is. How can they have a future while trapped in the past? Or is anything possible Beyond the Fortuneteller's Tent?
Published: Nov. 06, 2013
Words: 71,520
Language: English
My review: Beyond the Fortuneteller Tent by Kristy Kate
Interesting mission I had no idea about in Elizabethan England. Petra Baron was worried about getting asked to the prom when she goes into the Fortuneteller's tent at Renaissance Fair. When she walks out she is in Elizabethan England.
Full of drama, history, action, romance and mystery. Plus a well told story and a clean read.
Petra has no idea why or how she is in England and the past. Why certain people look like some of the people that she has left behind or forward? She does not tell anyone where she was from because she has a hard time believing it.
Emory finds Petra, but he hiding a lot of secrets and missions.
There were lots of surprises and twists. Some of it did not make sense but most of the story I could get lost in it. I did like the ending,
I would like to read the next book in the series.
I was given this ebook to read and in return I agreed to give a honest review of Beyond the Fortuneteller.